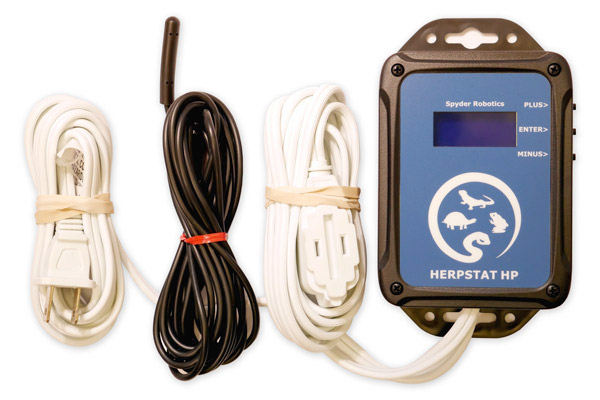 Herpstat HP:
Spyder Robotics

High Powered ON/OFF style control of heating or cooling devices. (usable range from 40F to 150F or 4C to 65C). 
Temperature sensor included with an internal resolution of .1125 F and is accurate to ± .9 F
Can be used with optional humidity sensor to control humidity instead of heating/cooling. 
Can be used with optional humidity sensor for heating while monitoring humidity.
Built in Safety Relay gives backup protection against a main relay failure causing a "run away" heating situation.
Built in electrical tracking that typically improves relay contact life providing longer product life.
User selectable temperature ramping.
Sensor Matching allows the user to digitally calibrate the sensor output to match other equipment.
Selectable day/night schedules with nighttime temperature setting.
High/Low  tracking helps monitor heating system and enclosure efficiency.
High/Low threshold alarms.
Settings are retained in memory even if power is lost.  *
Power Outage detection/tracking.
Temperature can be set/displayed in Fahrenheit or Celsius.
Easy to read backlit LCD display.
12ft removable sensor allows for easy replacement if necessary.
Audible alarm system.
Internal error detection shuts off heat if sensor fails or is disconnected.
Flanged mount for easy mounting to enclosure or wall.
Handles up to 12.5 amps / 1500 watts. 
Replaceable fuse.
7ft  input electrical cord.   7ft two prong (non-grounded) output cord.
1 year limited warranty
* Software clock is reset and features requiring the clock are disabled on power loss.


*Pick up at Show or Warehouse.
**Shipped UPS.